How to Draw Mountains – Part 6
How to Draw Mountains – Part 1
How to Draw Mountains – Part 2
How to Draw Mountains – Part 3
How to Draw Mountains – Part 4
How to Draw Mountains – Part 5
How to Draw Mountains – Part 6
How to Draw Mountains – Part 7
Draw the Trees
Draw Trees at the Foot of the Mountains
---
Now let's work to draw some trees at the foot of these mountains. Begin with the trees in the distance. Use a 6B pencil to sketch short vertical lines. This will be kind of a foundation for the trees for us to build upon. Since they are so far away, we're not going for a whole lot of detail here. Let's also make a row of trees coming down from the mountain.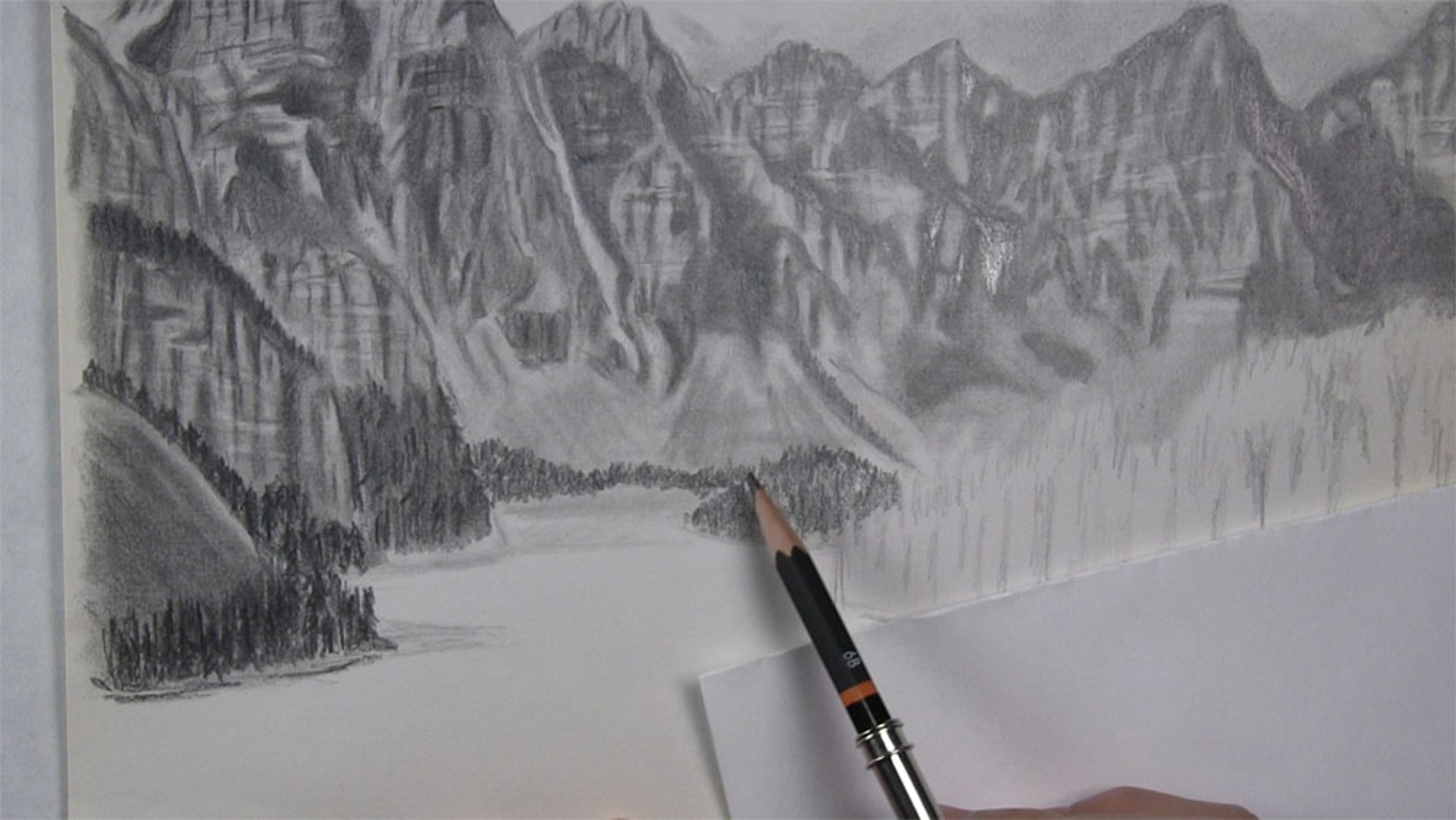 ---
Sketch the shoreline next. This should follow the curvature you already established during the preliminary line drawing. Then blend the shoreline and the trees with a tortillion.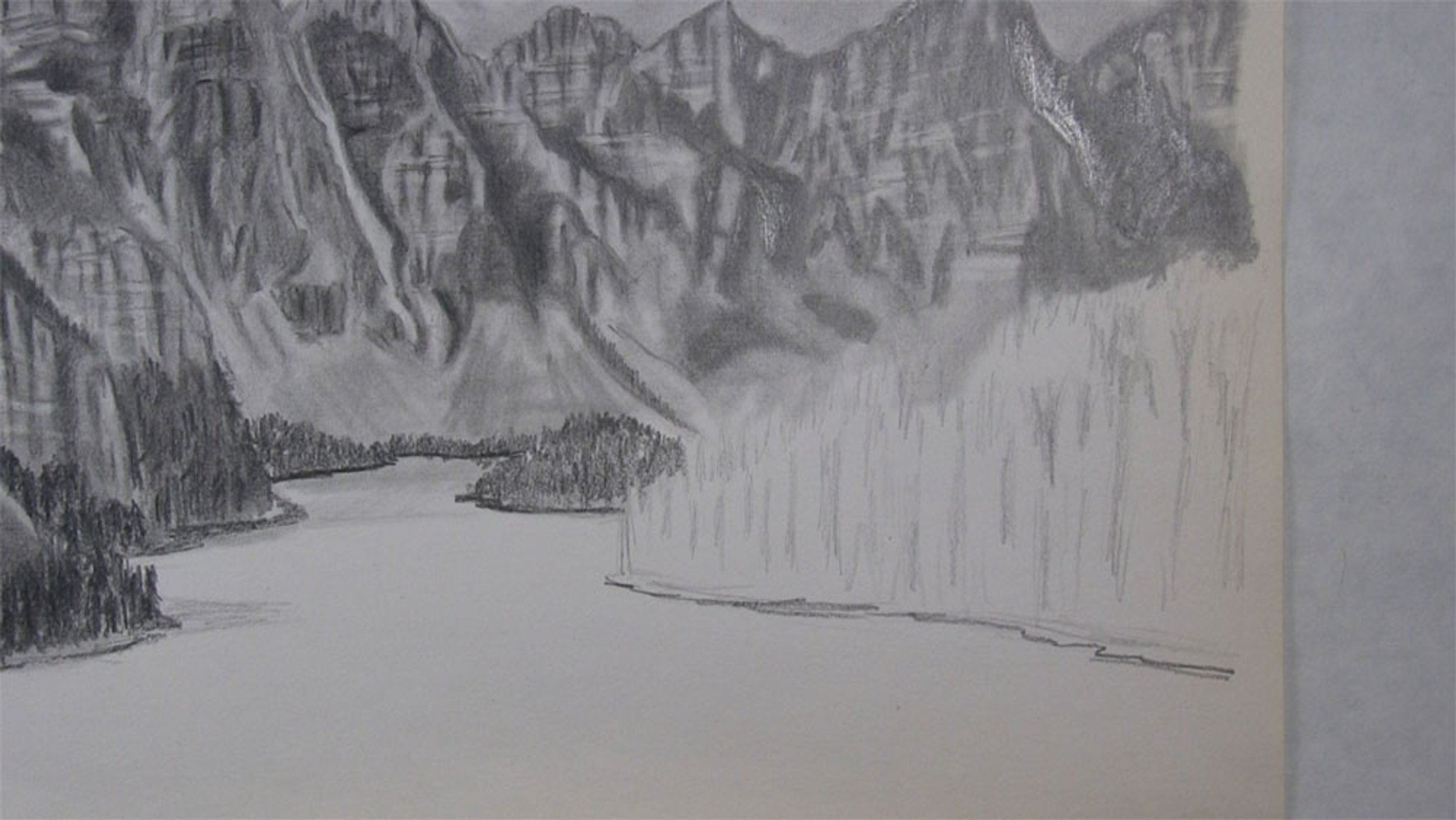 ---
There is a huge shadow that should be at the foot of this mountain. So I'm going to use my 6B pencil to identify the border of the shadow, fill it in, and then smooth it out.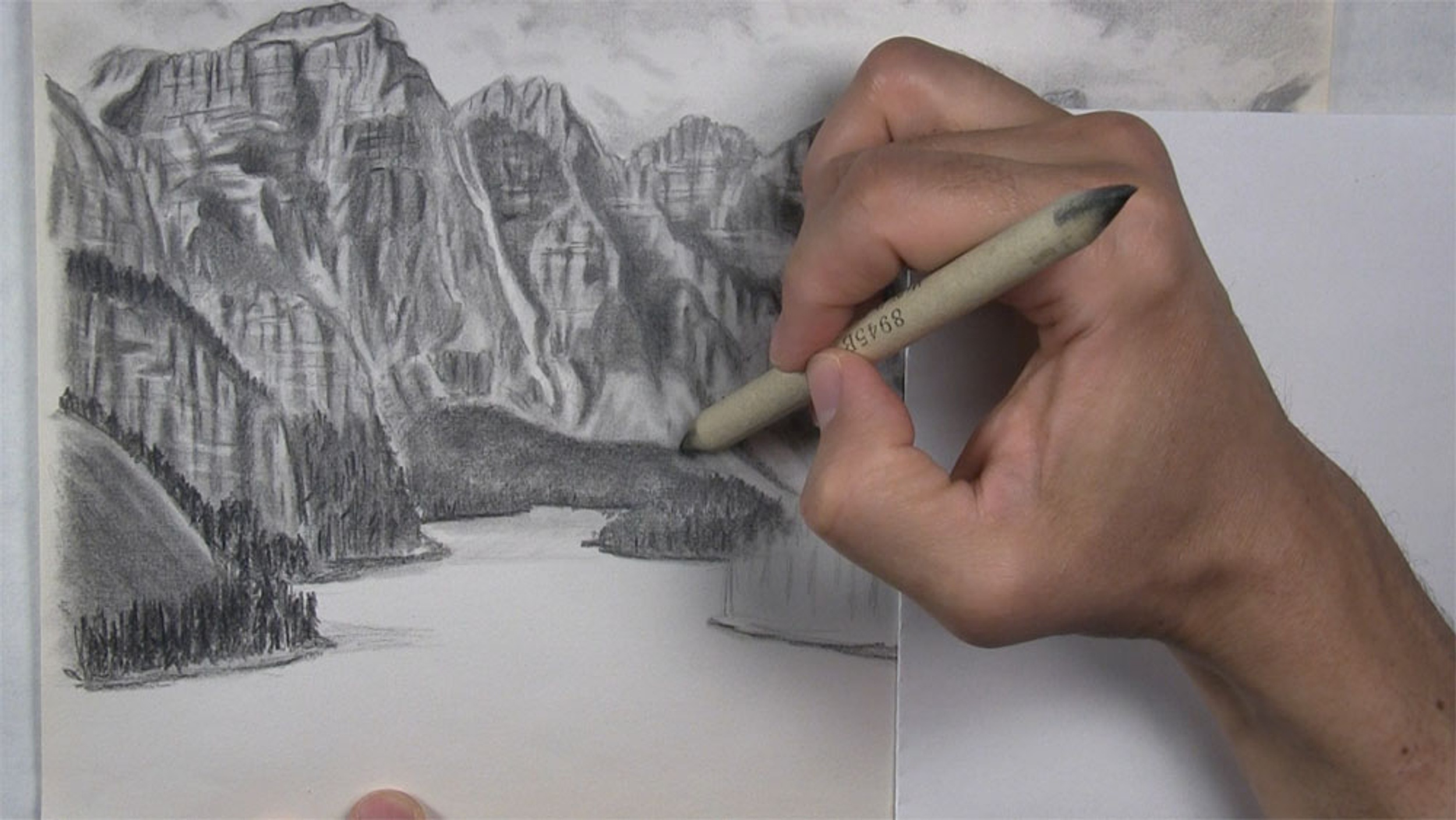 ---
Let's go over these trees one more time so we can see them better. That does it for all of the most distant trees.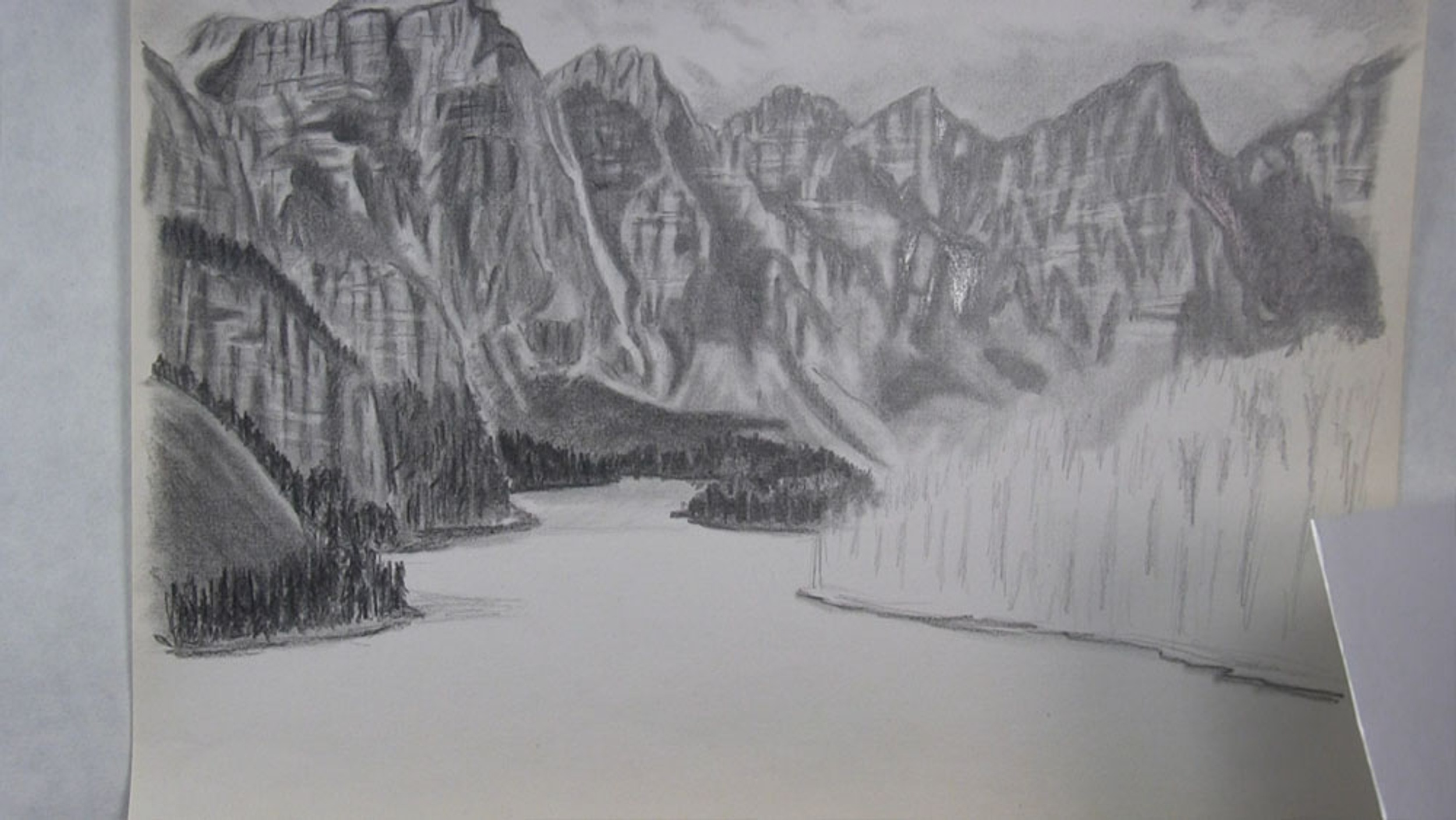 Begin Shading the Trees in the Foreground
---
Now, as for the trees on the right side of the drawing, these are closer to us in the foreground, so they need to be bigger. Use a 2B pencil with up and down motions along with tall, skinny oval-like motions to begin defining the tops and the sides of some individual trees.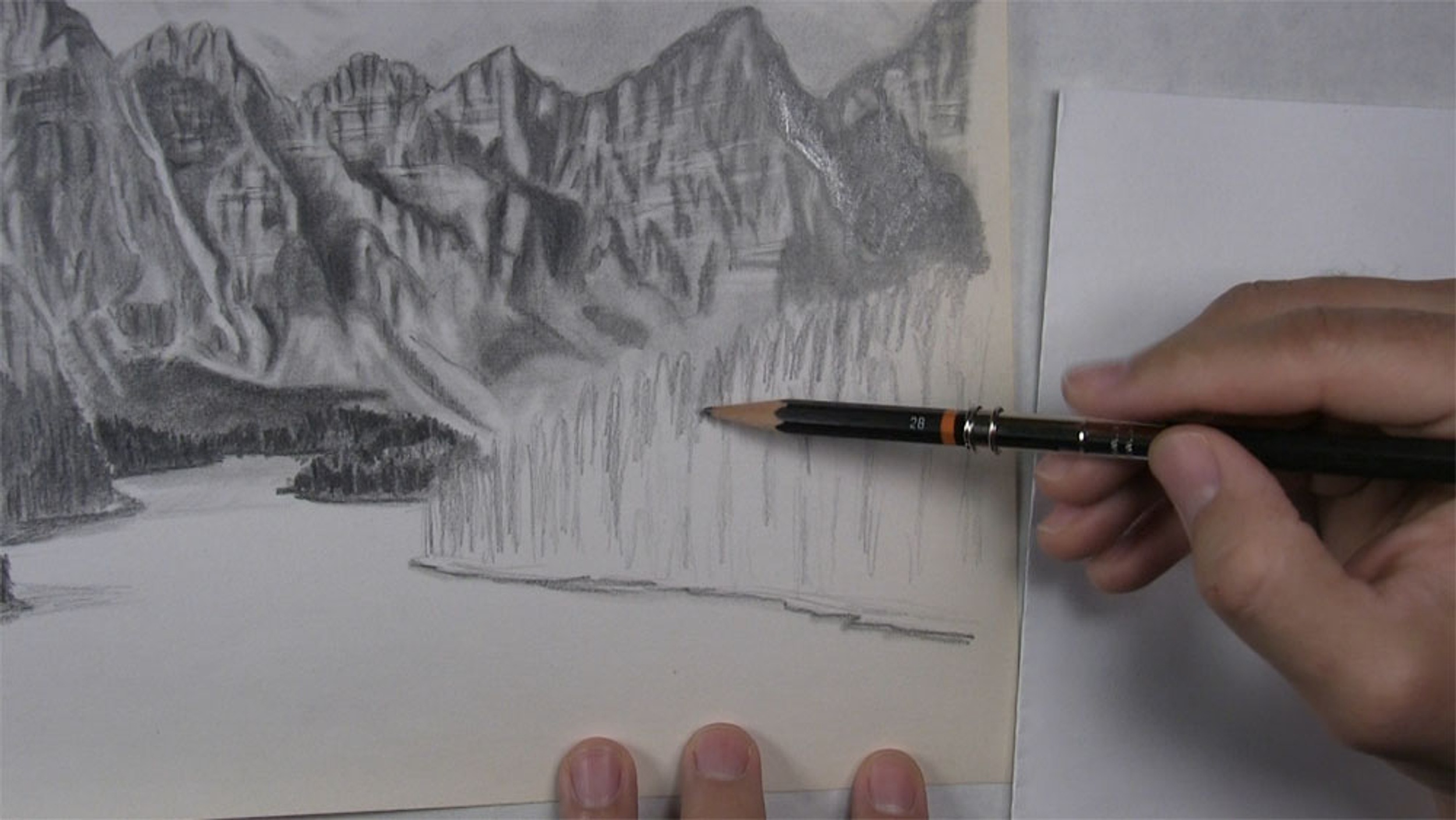 ---
Keep working your way across the trees. Keep the shapes of the trees very thin. Remember to maintain the tall oval shapes as you form the trees, keeping the sides close together but slightly curved rather than perfectly vertical.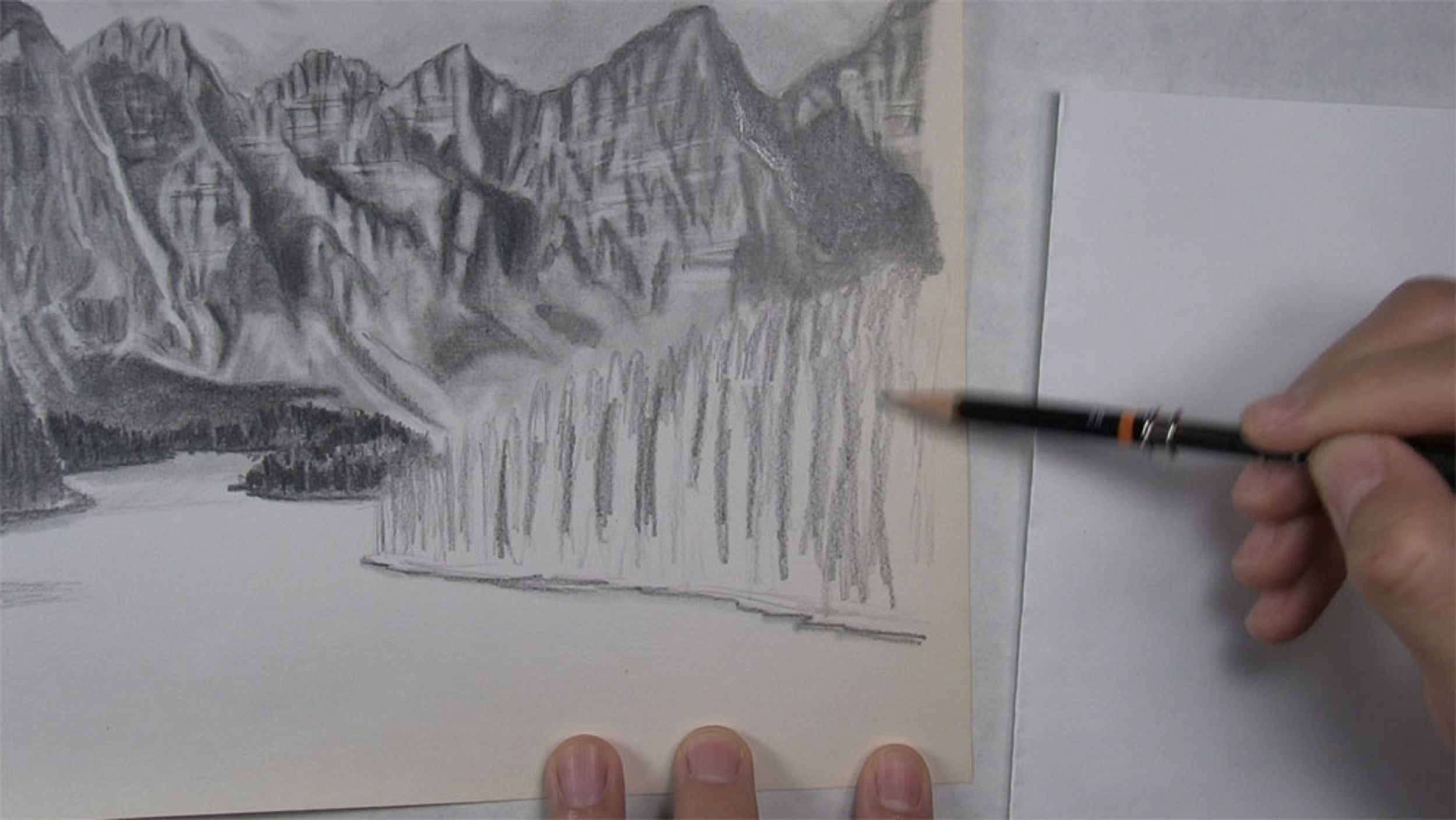 ---
Next, simply blend the trees to obtain some background tones. We will build upon this in the next steps.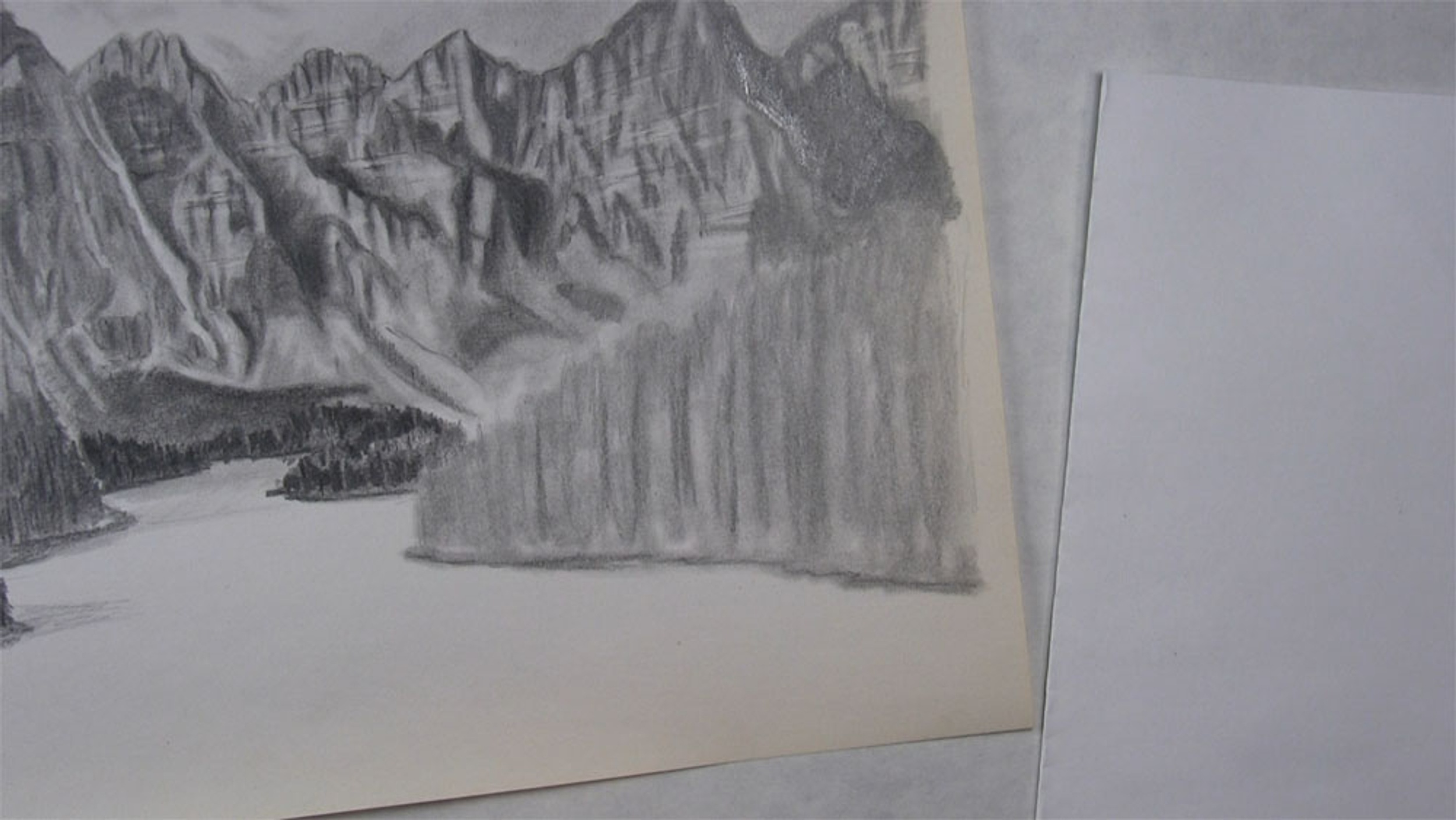 Finish the Trees in the Foreground
---
Switch to a 6B pencil to sketch the outline of the individual trees. You are mostly going to maintain the shapes from before. We will make them look more like evergreen trees very soon. For now, this helps to create the shadows that sit between all of the trees.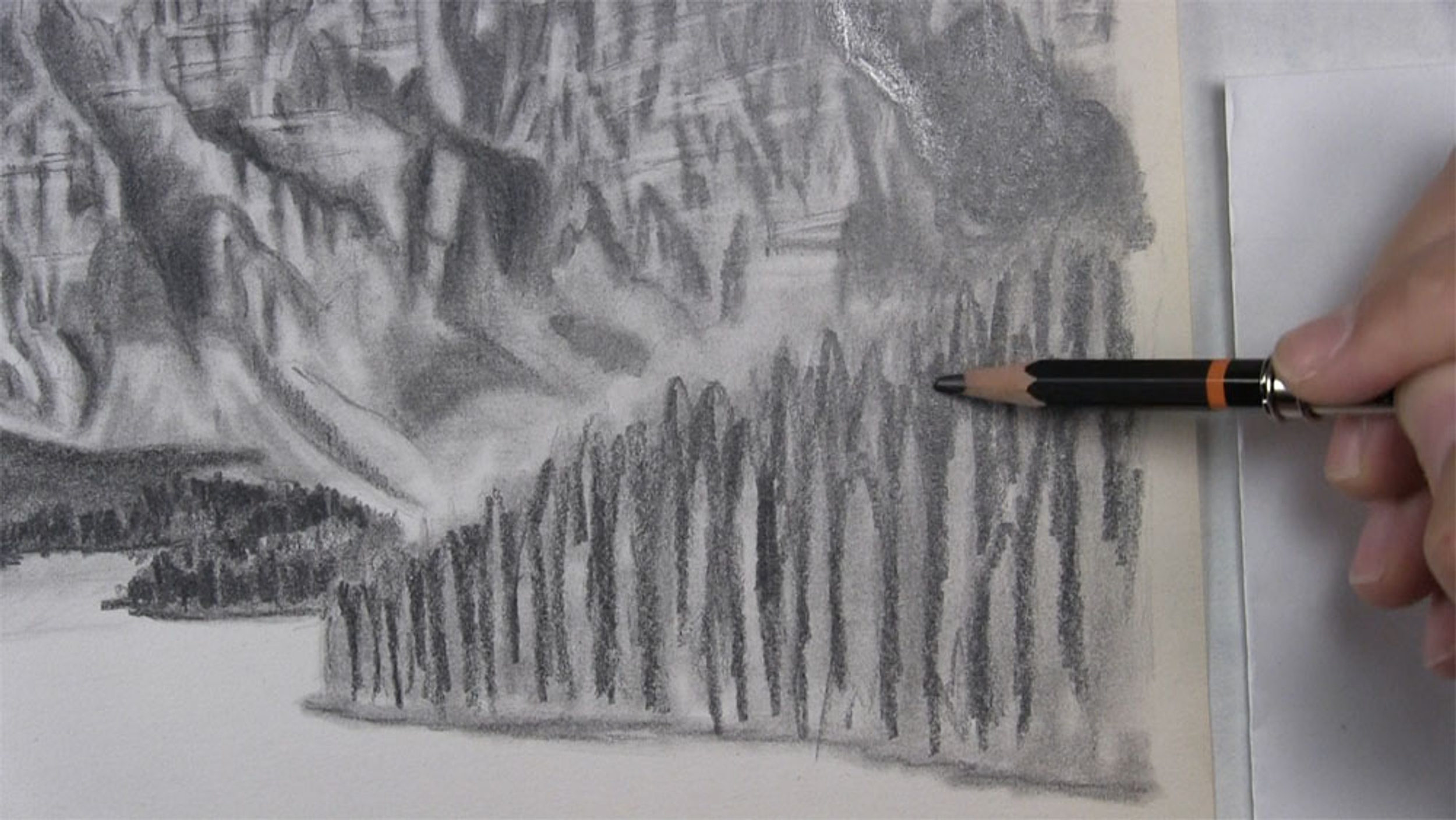 ---
Make sure you have a very sharp pencil for this next step. Now, let's make evergreen trees by making some very short zigzag marks along the sides of the shapes. You can put a few pencil strokes inside some of the trees for added detail. The trees in the front are in the sunlight, so the trees in the back need more shadow.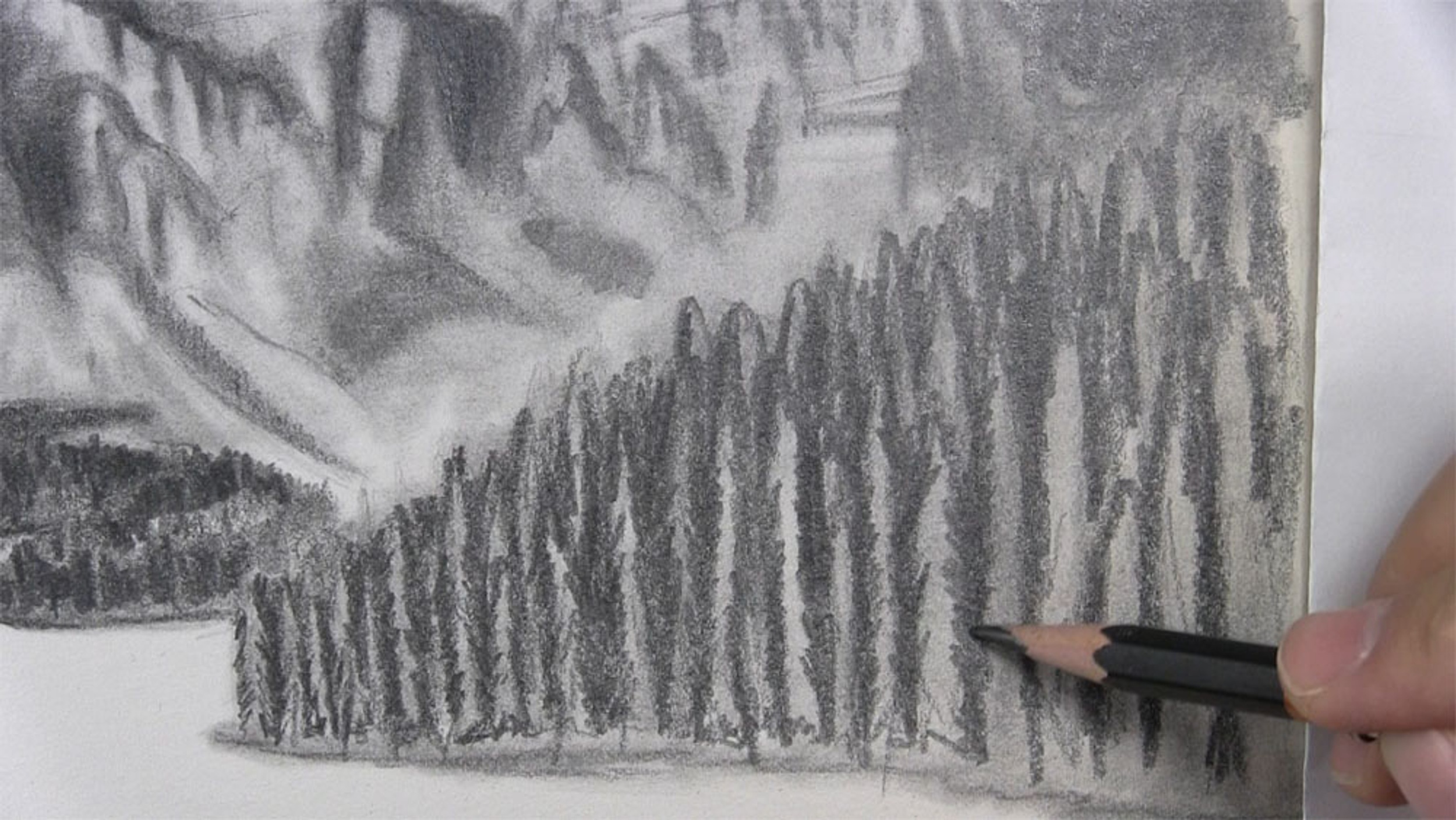 ---
Carefully blend the outlines of the trees and the base of the trees with a tortillion. You can also add extra details with a pencil as needed. Use the graphite on the tip of your tortillion to make tiny circular strokes on the light areas of the trees for added texture.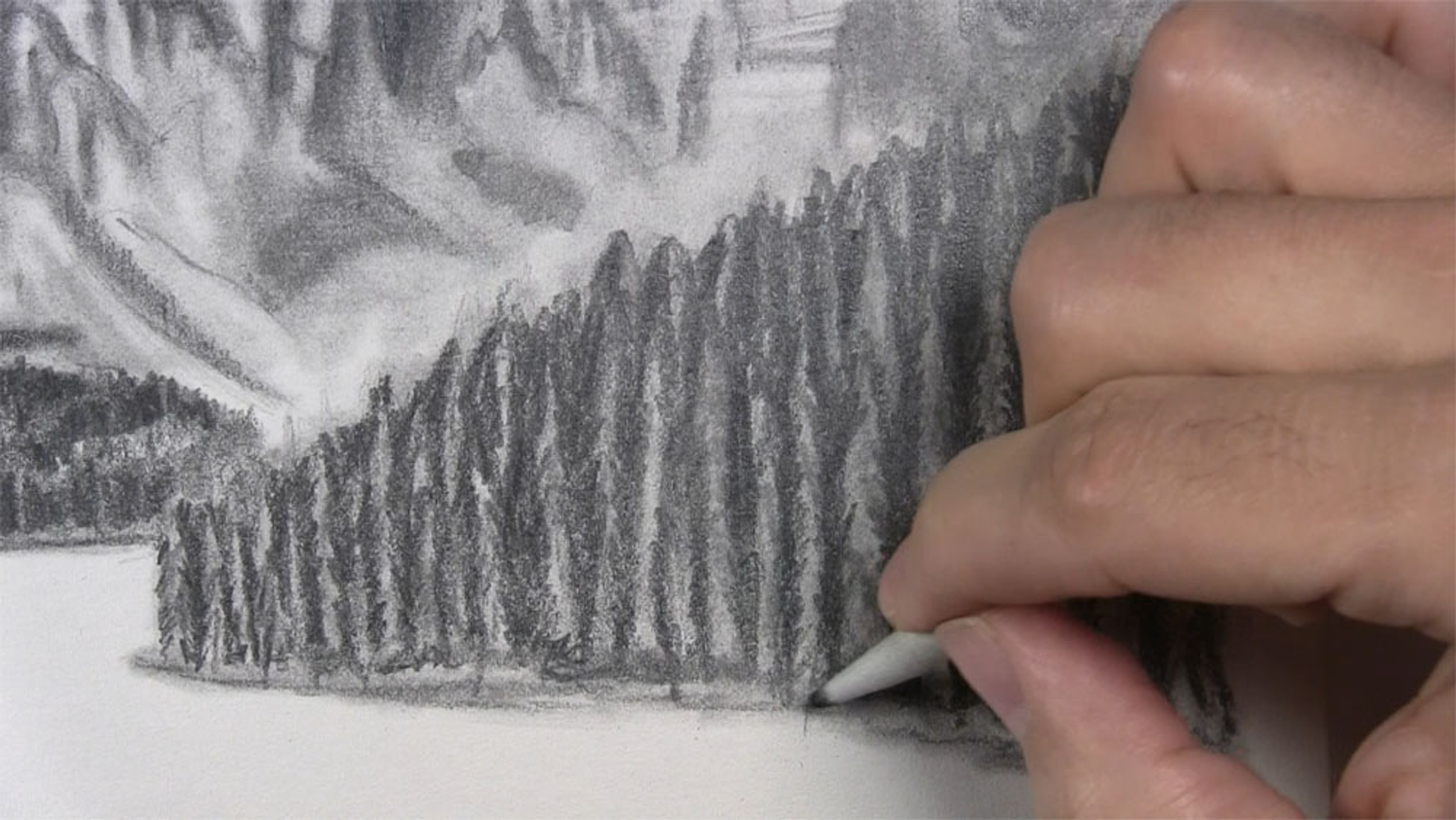 How to Draw Mountains – Part 7